Zitan sits right at the heart of the Greenfield District, an 11-hectare property in Mandaluyong City. Zitan Greenfield District condos is at the corner of two major thoroughfares: EDSA highway and Shaw Boulevard. Zitan is just 5-minutes away from the Shaw Boulevard station of MRT. It is also conveniently located near Shangri-La Hotel.
Greenfield District is located in Mandaluyong City, the emerging center of commerce, business, and urban living in Metro Manila. Greenfield District is the ideal spot for residential developments, as it is not only in close proximity to commercial and business hubs within the city itself, but also to surrounding cities such as Makati, Pasig and San Juan. Zitan is the flagship project of Greenfield District. Its accessibility and interconnectedness to various points of interests make Zitan the perfect residence for young urban professionals and young families.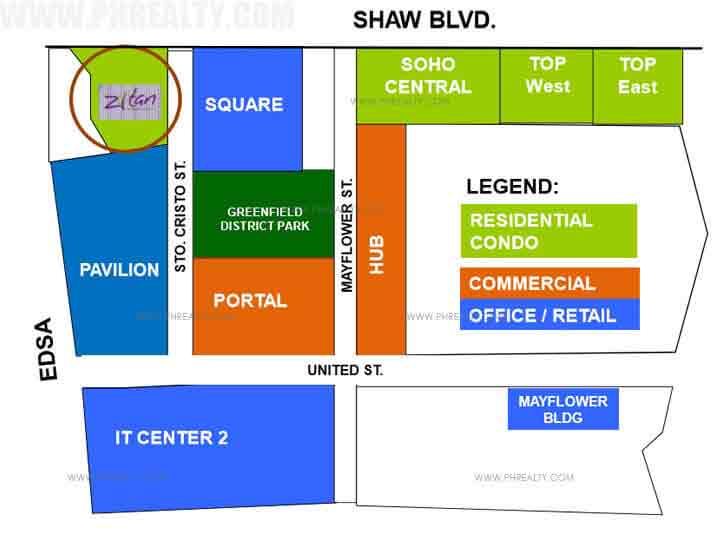 Anyone who has bought a home in the past will tell you that the most important thing when looking for one is the location especially if you plan to live there for many years. Safe locations or neighborhoods are very vital though you need to find out what the security situation in the place you are considering will be in the next five years. If things are uncertain, then do not trade with chances. Exhaust all avenues and only move on to buy a home when you are assured of security now and in the future, in the place, you want to live. Simply put, all these are things that are determined by the property's location.
Zitan is a mixed condominium that sits rightly at the center of the Greenfield District where your security is guaranteed on a 24/7 basis. Since this is a growing district, you are assured that safety and security will remain at high levels even going to the future. Besides that, this project is considered by real estate experts as convenient and perfect. This modern condominium is located near all the places of interest that people love near their homes. What makes it stand tall among all other condos is the fact that this is a mixed project where there are residential and commercial units under one roof. It's carefully chosen location gives you access to the following:

#1 Restaurant:
Habib-0.14 km
Waffle Time-0.08 km
Larry Mau Diner-0.12 km
Agave-0.17 km
Pinoy Grill-0.10 km

#2 Mall:
Foodstalls-0.15km
Greenfield District-0.12km
Tobys Estate-0.12km
Rustans Department Store-0.15km
Crossings Department Store-0.13km

#3 Hospitals:
Unciano General Hospital-1.27km
FriendlyCare Clinic-0.53km
Mauway Health Center-1.08km
National Center for Mental Health-1.43km

#4 School:
High School Division-0.49km
Highway Hills Integrated School-0.53km
N. Gonzales Building-0.53km
Lourdes School of Mandaluyong-0.39km

As you can see, this location has everything necessary for peaceful and convenient living. Once you are in this place, you will never wish to leave or relocate because you will be having everything near you. The other thing that makes Zitan the best among all others is the fact that it's a mixed use condo meaning that you will not have to travel anywhere when you need the necessities of life. Everything is provided for you, and you only need to buy a home here and start enjoying them right away. The building boasts as the unique one in the area. Its interconnectedness and accessibility to various places make it an ideal living environment for everyone.
Whether it's your first time to buy a home or not, you don't need to be an expert to know that Zitan Condominium is perfectly located in the Greenfield District where everything is available for you and your loved ones. It's comfortable and good for you whether you need a business building or just a place to call home. The location is the most crucial thing though many people tend to ignore it, especially when other things look amazing to them. What are your thoughts about Zitan? Well, it's the best place to call home from now henceforth.